About the Galapagos Islands
galapagos islands
The incredible Galapagos Islands are an archipelago of volcanic islands situated around 1000 kilometres to the west of mainland Ecuador. The Galapagos are distinguished between major and minor islands which form a National Park and biological marine reserve.

The main features of the Galapagos Islands are:
Biodiversity with unique species of flora and fauna
Animals not being afraid of humans.
The Charles Darwin Research Station which shows and explains his observations that contributed to the Darwin theory of evolution.
Beautiful beaches on all of the islands.
Only 4 of the islands are inhabited.
Holidays to the Galapagos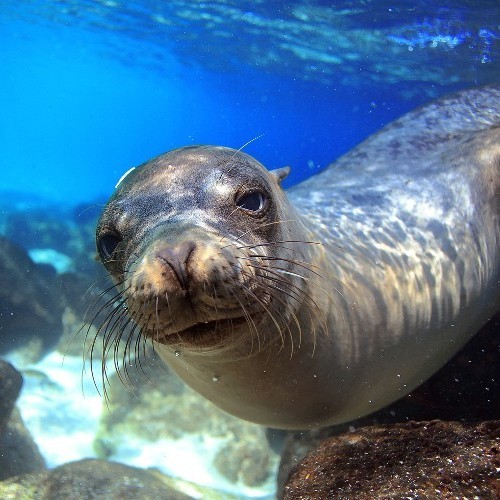 The best ways to visit the Galapagos
Cruises
Cruising the Galapagos is the traditional way to explore the area and the most popular. These cruises give the opportunity to visit Islands which are farther away and impossible to reach otherwise.

Cruises vary in ship type and duration from ships carrying 100 passengers to just 6 and itineraries lasting 5 days or 7 days. A visit to the Galapagos can from part of an overall South American cruise itinerary.

We offer cruise options to suit all budgets and we can arrange all elements of travel and activities such as diving gear etc. while you are onboard.
Island Stays
Staying on one of the Islands in the Galapagos is a great way to explore this stunning area. This gives you a lot of variations on what you can see and do and tailor exactly how you want to visit.

You can stay on one Island and visit a different island each day by boat. This gives you the opportunity to explore your own Island and other islands aswell as enjoying various watersports and discovering the different flora and fauna of each island.

On the four inhabited Islands you will find a variety of accommodation options. We can arrange your flights from Ecuador, transfers, excursions and accommodation for you.
VIEW OUR GALAPAGOS HOLIDAYS HERE

Galapagos Year-Round – A Calendar of Main Events
January
Beginning of the rainy season. Land birds start nesting, generally after the first rain.
On Española the adult male marine iguanas become brightly coloured.
The green sea turtle arrives to the beaches of Galapagos to lay their eggs.
Land iguanas begin reproductive cycles on Isabela.
Both, water and air temperatures rise and stay warm until June.
February
On Floreana flamingos start nesting. Bahamas pintails start their breeding season.
Masked boobies on Española are at the end of their nesting season.
Marine Iguanas nest on Santa Cruz.
The highest water temperature reaches 25°C (77°F). This temp. remains until April.
Very few penguins are sighted in Bartholomew.
The nesting season of the Galapagos dove reaches its peak.
March
Marine iguanas nest on Fernandina.
The rainy season reaches the highest precipitation. Sporadic tropical rains, intense sun and hot climate. Air temperature can reach up to 30°C (86°F).
March 21, the beginning of the summer equinox signals the arrival of the waved albatross to Española.

April
Massive arrival of waved albatross to Española. Their courtship starts.
End of hatching season of the giant tortoises. The eggs of the green sea turtles begin to hatch. Land iguanas hatch on Isabela.
May
North Seymour´s blue footed boobies begin their courtship.
Sea turtles are still hatching on Gardner Bay, Punta Cormorant and Puerto Egas
Most of the marine iguanas eggs hatch from nests on Santa Cruz.
Palo Santo trees begin to shed their foliage.
Albatross on Española start laying their eggs.
Band rumped storm petrels begin their first nesting period.
June
Beginning of the garua season.
Giant tortoises on Santa Cruz migrate from the highlands to the lowlands in search of suitable nesting places. Beginning of the nesting season of giant tortoises.
July
Sea bird communities are very active, especially the blue footed boobies on Española. Flightless cormorant court and nest on Fernandina.
It is possible to find oyster catchers nesting on Puerto Egas
Lava lizards initiate mating rituals until November.
Whales are more likely to be observed, especially off the Western coast of Isabela.
August
The Galapagos hawks court on Española and Santiago.
Mask boobies and swallow-tailed gulls nest on Genovesa.
The temperature of the ocean descends to 8°C (64°F), which obviously varies according to the geographic zones among the islands.
Migrant shore birds start to arrive, and stay on the islands until March.
Giant tortoises return to the highlands of Santa Cruz.
September
Peak of the cold (garua) season. The air temp. reaches its lowers (19°C) (66°F).
Penguins demonstrate remarkable activity on Bartholome until December.
Sea lions are very active, especially in the western and central areas of the Archipelago. Most species of marine birds remain active at their nesting sites.
October
Lava herons nest until March. The Galapagos fur seals begin their mating period.
Boobies raise their chicks on Española. Giant tortoises still lay their eggs.
November
Sea lion pups are born.
Sea lions are sexually active on the Eastern part of the Archipelago.
Breeding season of brown noddies.
Band-rumped storm petrels begin their second nesting period.
December
Hatching of the giant tortoise's eggs begins and lasts until April.
Green sea turtles display their mating behaviour.
The rainy season begins; all of the plants of the dry zone produce leaves. Galapagos "turns green". The first young albatross fledge.
Note: Some of the events may differ or not occur due to weather changes mainly affected by the ocean currents.
VIEW OUR GALAPAGOS HOLIDAYS HERE
Call our travel hotline for expert advice or to book your trip.
Contact Info