Boston City Breaks
Boston
From November, America will be open to fully vaccinated tourists! One of the USA's most history-filled destinations, there's so much to see and do in Boston. We can tailor make the perfect holiday for foodies, history lovers, culture vultures, thrillseekers or shoppers. Browse a selection of our favourite deals here, or ask our agents to create your perfect Boston break.
Things To See In Boston
Paul Revere House
Home of one of the most well-known participants in the American Revolution, who rode to warn the colonists of the British troops' approach
USS Constitution
This wooden-hulled, three-masted heavy frigate was built in 1797. The adjacent visitor's centre chronicles the ship's history and life on board
John F. Kennedy Presidential Library & Museum
This striking I.M. Pei–designed building houses exhibits, videos & research collections related to the life of President Kennedy
Harvard Square
Home to America's oldest university, this iconic cultural center offers shops, eateries & theaters
Fenway Park
The iconic ballpark has been home to the Boston Red Sox since 1912. Baseball season is April to early October and guided tours can also be taken in the off-season
Museum Of Fine Arts
Home to collections of Egyptian artifacts, French impressionist and post-impressionist works and the largest collection of Japanese works under one roof outside Japan
Boston Tea Party Ships & Museum
Witness reinactments from the famous 1773 protest on board this floating history museum with multimedia exhibits and Abigail's Tearoom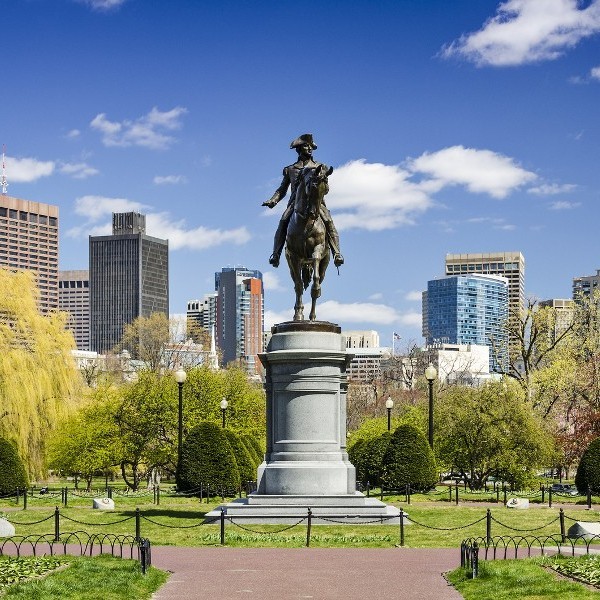 "Having lunch in Faneuil Hall Marketplace is a must-do. There are so many vendors to choose from... it took me 20 minutes alone to decide what I wanted! It was a beautiful sunny day so we sat outside to eat. There is something almost cosy about Boston" -M
Boston is ideal for a city break. There is lots to see and do, and all at a relaxed pace.
There are many excursions on offer, including:
Old Town Trolley Tour- Stops include Faneuil Hall, the Cheers bar, Skywalk Observatory and Boston Common
Boston Lighthouse Tour- Discover the heritage and culture of America's majestic lighthouses including the oldest lighthouse and only still operating twin lighthouses left in the entire country.
Salem Witch City Tour- Undercover a dark and superstitious time in American history; the infamous Salem witch trials of 1692, with the Salem Witches tour from Boston.
Cape Cod Excursion- Ride across the Cape Cod Canal and wonder at a beautiful landscape of sand dunes and salty beaches with the Cape Cod excursion from Boston.
If you have some extra time then Boston is easily combined with New York or Cape Cod and is the starting point for a road trip to New England!
Boston: A City For All Seasons
Call our travel hotline for expert advice or to book your trip.
Contact Info