Where To Go!
Rio de Janeiro
Rio de Janeiro is perhaps one of the most famous and exciting cities in the world. The atmosphere and vibrancy of the culture mixes perfectly with the great weather, stunning scenery, great food and nightlife!

Recognisable landmarks including the iconic Christ the Redeemer statue, now one of the new 7 Wonders of the World, and Sugar Loaf Mountain, reached by cable car, are easily accessible and a 'must do' on a visit.

Stunning beaches including Copacabana, Ipanema and Praihna Beaches are ideally located to enjoy a mix of city and beach. These beaches are a hive of activity anytime of the day!

Rio also has a lot more to offer including arty neighbourhoods, most notably, Santa Teresa, with it's restaurants and bars; great food including local delicacies and the local Churrascaria which is a great experience and it's vibrant nightlife including Samba shows!

A taste of some excursions you can pre-book:
Full Day Tour To Sugar Loaf and Christ the Redeemer With Bbq Lunch
Rocinha Favela Walking Tour
Rio By Night: Dinner and Samba Show
Full-day tour to Ilha Grande - tropical paradise
Rio de Janeiro Hang Gliding Experience
OUR TIP - If you want a beach stay but do not want to take a flight, then you are spoiled for options North & South of Rio de Janeiro; all within driving distance. We can arrange transfers to Buzios, Angra dos Reis and Ihla Grande for you to visit either for a day or we would recommend staying a few nights before being transferred back to Rio!

Holidays to Brazil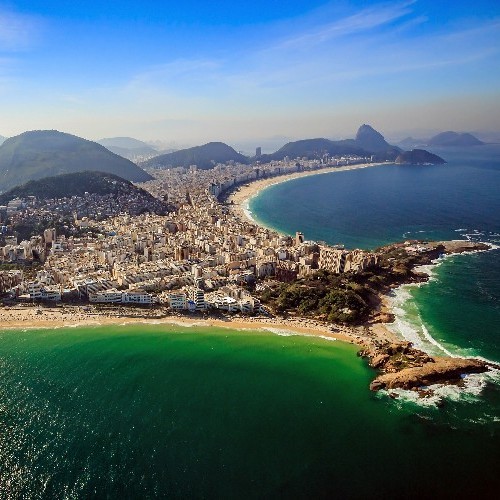 Buzios
Made famous by Bridget Bardot in the 1970's, Buzios is a charming fishing village located 2.5 hours drive North of Rio de Janeiro. It is surrounded by approximately twenty bays and beaches, all reachable by taxi boat.

The two main pedestrianised streets offer a large number of shopping opportunities including souvenier shops, upmarket boutiques and local artists craft shops. Here you will also find a huge choice of restaurants, ice cream parlours, bars and a nightclub.

Buzios really does have so much to offer, with a relaxed atmosphere and is ideal for honeymoon couples or those looking for a relaxing start or end to their holiday.

A taste of some excursions you can pre-book:
Buzios Sightseeing and Snorkelling Cruise
Half-Day Schooner Sightseeing Trip in Buzios Peninsula Beaches
Scuba diving experience in Buzios
OUR TIP: There is a wide range of accommodation available in Buzios including privately owned and run Pousadas, small hotels and Hotel chains. Some of the Pousadas offer a personal experience and a lovely stay. For something different we would suggest staying in one of these Pousadas. You may have to compromise on pool size but you will gain in local fresh produce for breakfast, stunning views and a sense of home from home.

Holidays to Brazil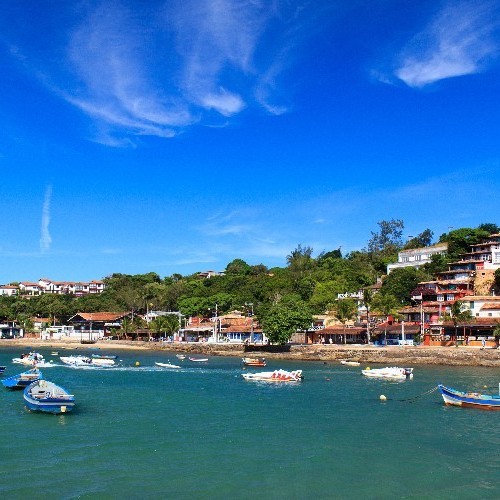 Amazon Rainforest/Manaus
The Amazon Rainforest in Brazil

The Amazon Rainforest in Brazil provides 20% of the World's Oxygen and is home to 205 of the bird species in the world, with over 40,000 different plant species and approximately 2.5 million insect species!

One of the main attractions in the area is the Meeting of the Waters where the the black waters of the Rio Negro meet the light brown waters of the Solimões, giving birth to the mighty Amazon River.

Manaus is the starting point for our holidays in the Amazon and is a four hour flight from Rio de Janeiro. You can explore the Amazon on a short cruise along the largest river in the world or our most popular option is a 2 or 3 night Amazon Jungle Lodge package which includes your transport, by boat, excursions and activities in the rainforest, accommodation and meals. We work with a range of lodges to suit all budgets.

Example of activities included in a Jungle Lodge Package:
Canoe night tour
Forest Hikes
Alligator Spotting
Pirahna Fishing
Bird Watching
Visiting native communities
Visit to Monkey Forest
Holidays to Brazil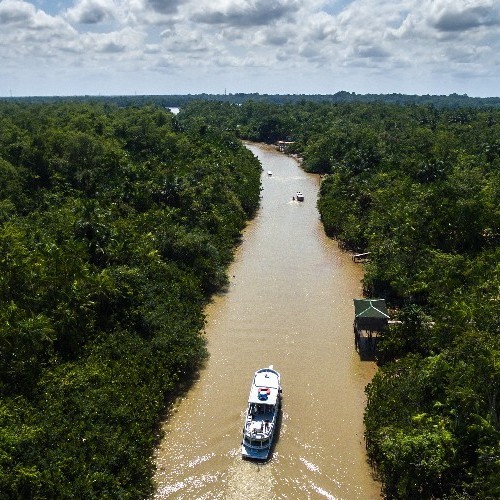 Green Coast - South of Rio de Janeiro
Angra dos Reis is a bay located some 155km South of Rio de Janeiro which is comprised of 365 islands and islets and a multitude of stunning beaches. We have a wide range of accommodation in the area from 5* resorts to cosy Inns to suit all budgets. The area offers an abundance of activities. You can base yourself in one of the resorts and visit the islands on excursions and day trips! It is a great combination with Rio de Janeiro as there are no internal flights involved and we can arrange your transfer for you.

Ihla Grande is the biggest of the islands in Angra dos Reis and is an excellent addition to a holiday itinerary to Brazil. You reach the magnificent island by ferry from the town of Angra, we will arrange this for you! The beaches on the island are stunning including Lopes Mendes Beach, considered one of the Top 10 best beaches in Brazil. There is an endless amount of activities available on the island which can be combined with a relaxing beach stay!

Paraty is a charming town with a beautiful and historic colonial centre. From Paraty there is so much to see and do including visiting the stunning beaches, taking boat trips to Islands, adventure in the Mountains and activities including hiking and fishing. It's a wonderful base to explore itself and also to discover everything the area has to offer.

OUR TIP: Due to the fact that Brazil is such a large country (5th largest in the World), if you want to travel to a number of destinations then you need to fly. We would suggest for a relaxing but interesting stay at the start or end of your holiday to incorporate this part of Brazil which is driving distance South of Rio. We can arrange all land and boat transfers for you!

Holidays to Brazil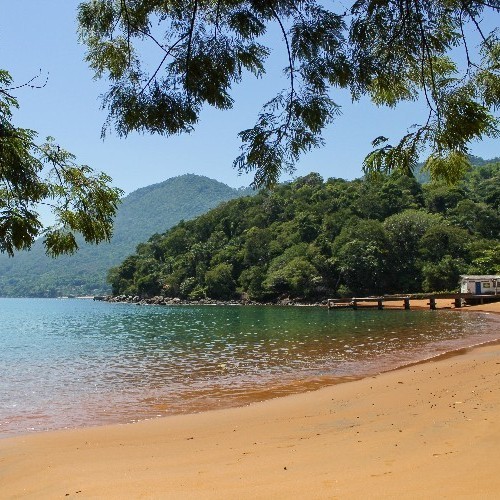 Iguassu Falls
Iguassu Falls have been designated as a UNESCO World Heritage site and in 2011 were named one of the 7 Wonders of the Natural World. Iguazu Falls are made up of over 230 individual waterfalls and straddles the borders of Brazil, Argentina & Paraguay, with the main two sections to visit being the Brazilian and Argentinean side of the Falls.

We can arrange a day trip to both sides which will allow you to view differing aspects of the Falls. The Brazilian side of the Falls is considered to be the most panoramic side. We will arrange pick up and transfer and crossing between both countries is straightforward. You can also book a boat trip or a helicopter overflight of the Falls, just ask us for details.

Accommodation choices are vast and we can recommend accommodation for all budgets and preferences!

A taste of some excursions you can pre-book:
Full-Day Tour to both sides of Iguassu Falls
Itaipu Dam Tour with Catamaran Ride
Paraguay Guided Shopping Tour from Foz do Iguacu
Sunset at the Landmark of the Three Frontiers Mounument
Iguassu Falls Panoramic Helicopter Flight
OUR TIP: From Iguassu you can visit the Itaipu Dam in Paraguay, which is the world's largest hydroelectric power plant. Built on the Paraná River, the plant provides part of Brazil's and almost all of Paraguay's electricity. We can arrange this excursion for you!

Holidays to Brazil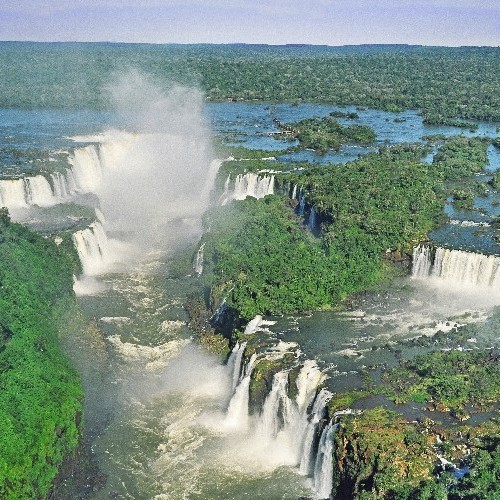 Northeast Brazil - Beaches
The Northeast coast of Brazil is extremely popular for beach holidays, especially with couples on honeymoon in Brazil. Below are the four most requested destinations!

Fernando de Noronha is located off the North East Coast and is an archipelago comprising of 21 islands and islets. It's stunning location and it's turquoise waters and white sandy beaches combined with the numerous activities onland and in the water make this an extremely popular choice for honeymoon couples!

Recife is often referred to as the Venice of Brazil! A centre of culture with great beaches, nightlife, shopping and beaches, it is one of the most popular places to stay in this part of the country. The nearby UNESCO World Heritage Site town of Olinda is worth a visit!

Natal has a lot of offer for a beach stay. White sand dunes are typical of the area and it has a rich and diverse culture along with great nightlife. Pipa Beach is one of Brazil's most well known beaches and is approx. 80 miles from Natal. It is a lovely area with a stunning beach and has a great range of accommodation.

Fortaleza is one of Brazil's biggest cities. It has many attractions for holiday makers who come for its beaches, over 30km, it's vibrant nightlife, museums, markets, sand dunes and the man nearby fishing villages accessible from Fortaleza.

Please ask us for details on any of the above destinations!

Holidays to Brazil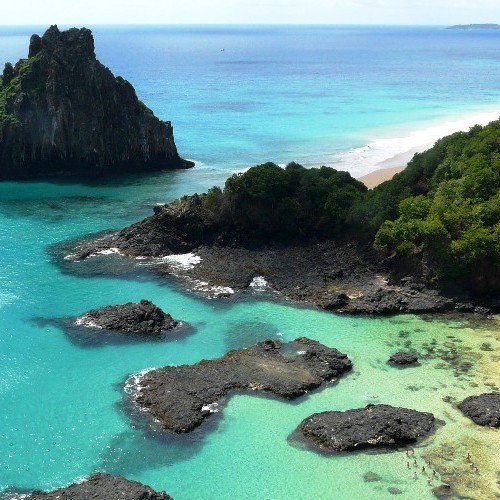 Salvador de Bahia & Praia do Forte
Salvador has a great atmosphere resulting from a mix of cultures coming together in music, art and food. The city has a lot to offer and we can arrange excursions for you to get the most out of your visit here. Salvador is also the base for staying in some of the stunning resorts along the coastline here, including Praia do Forte.

Praia do Forte is located around 80km North of Salvador and with a stunning coastline, it is home to many hotels and resorts ideal for a beach stay. It is a very popular choice for honeymoon couples.

As well as the beach, there are many activities you can do here including whale watching, viewing turtles, parasailing, golfing or water activities including snorkelling!

A taste of some excursions you can pre-book:
Full-Day Historic Private City Tour of Salvador with Lunch
Private Tour to Cultural Show and Dinner in Salvador
Salvador African Heritage Private City Tour Including Afro-Brazilian Museum
Private Jungle Boat Tour to Sapiranga Natural Reserve from Abrantes
Holidays to Brazil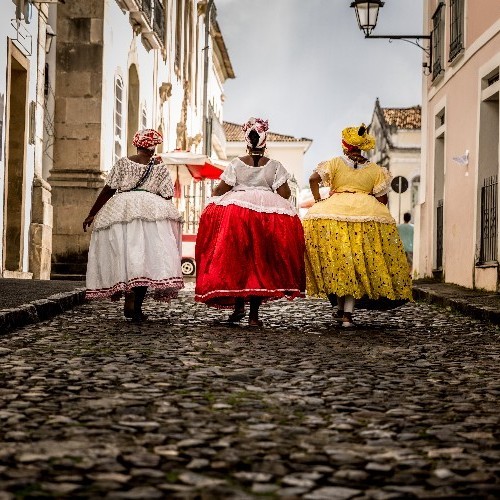 Call our travel hotline for expert advice or to book your trip.
Contact Info