Dublin & Area
With over 1300 years of history, Dublin's got a lot to offer no matter your interests- great museums, fantastic shopping, historic buildings, a vibrant food scene and a lot of beautiful outdoor space
Dublin Castle was first built in 1204, though there may have been an early Gaelic Ring Fort on the site before then. See the impressive staterooms, chapel, paintings and antiques inside, or stroll outside in the gardens- a great spot for photos.
Did you know the creator of Dracula was born in Dublin? Visit Castle Dracula (just across the street from Bram Stoker's former home) for a unique, heart-thumping experience (contains strobe lights & smoke effects) and to see a copy of the original manuscript, old movie posters and more fascinating memorabilia.
Visit the Guinness Storehouse at St. James's Gate Brewery to learn about the history of the Black Stuff. See how it's made and have a taste at the end of your tour in the seventh-floor Gravity Bar with views over the city.
Petrol heads will love the National Transport Museum of Ireland in Howth, with displays of passenger, commercial, utility and military vehicles dating back to 1883.
Stroll, cycle or run through Phoenix Park- one of the largest green spaces in any European city. See the famous deer, the People's Garden, Ashtown Castle and Áras an Uachtaráin- home to Ireland's president.
Also in Phoenix Park, Dublin Zoo remains a highlight of any family trip to the city. Learn about the wildlife conservation efforts that are ongoing in Ireland and abroad.
Visit some of the city's iconic pubs, including O'Donoghues (home to The Dubliners), The Long Hall, The Stag's Head (where James Joyce drank), and Gravediggers by the historic Glasnevin Cemetery. For something different, check out The Virgin Mary and its non-alcoholic offerings.
Take a drive out to the Boyne Valley to see Newgrange and the surrounding Neolithic structures. The world-famous passage tomb was built in 3200BC (it's older than the Pyramids!)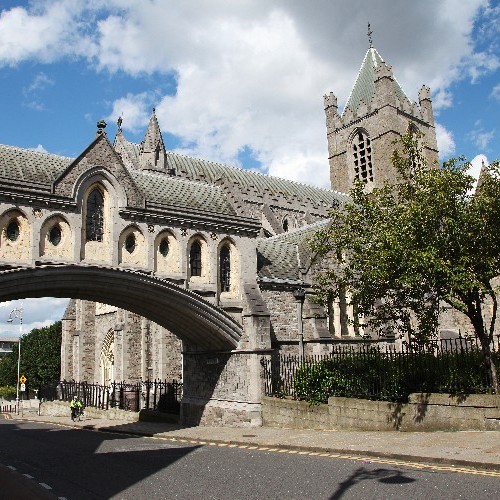 Scroll down to browse holidays around Ireland
Scroll down to browse a selection of holidays to Dublin and the surrounding counties. The trips will be available to book as detailed or we can tailor make to suit your specific needs- simply get in touch.
Send us an enquiry and your own Personal Travel Manager will get back to you to discuss dates, pricing, hotel options, recommendations for things to see and do in the area and anything else you need.
Fill in the enquiry form you'll find under each holiday or
Call us on 021 4277094 (Cork), 01 6965135 (Nationally), 027 50341 (Bantry) or 023 8833220 (Clonakilty)
Looking for inspiration?
We've got some great suggestions for tours, activities and days out in Dublin and the surrounding area. Save time and money by booking with us before you travel. Don't see what you're looking for? Get in touch and our travel managers will help you out.
Fast-track Easy Access Book of Kells Tour with Dublin Castle from €49
Avoid the crowds and explore Irish history in peace on this Book of Kells and Dublin Castle exterior tour. Visit the Trinity College Library, home to the famous Book of Kells. Afterward, enjoy a guided walking tour around Dublin Castle.
Celtic Boyne Valley Day Trip from Dublin from €50
Travel through mystical Celtic Ireland on this full-day bus tour from Dublin! With an expert guide, journey back in time to Boyne Valley, home of the ancient Loughcrew Celtic Tombs, the Hill Of Uishneacht, and the Hill of Tara
Dublin Highlights By Bike from €32
Explore Ireland's buzzing capital on two wheels on this Dublin bike tour. Take in top attractions and landmarks including College Green, Dublin Castle, Guinness Brewery, St Patrick's Cathedral and Temple Bar. Explore the Georgian streets around Parnell Square and Merrion Square, and gain insight into Dublin's rich history. Head off the tourist trail to hidden spots such as the Roe Distillery's windmill and Blessington Street Basin, then delve into the Grand Canal Dock area.
Wild Wicklow Tour including Glendalough from Dublin from €35
Soak up the majesty and myth of Ireland's Wicklow County on this full-day tour from Dublin. Aboard a comfortable coach, explore cultural and natural gems and lively pubs to the breathtaking Wicklow Mountain National Park and Glendalough's medieval monastic settlement.
Howth Peninsula Hiking Tour from €49
Trek the coastal paths of the Howth Peninsula on this hiking tour. Follow your experienced adventure guide along the cliffs and through the woodlands of this area, stopping at scenic overlooks and areas of spectacular natural beauty.
Jameson Distillery Guided Tour with Whiskey Tasting from €25
Enrich your knowledge of world-famous Irish whiskey on the new, guided tour of the Jameson Distillery Bow St. in Dublin. Learn the history of the iconic Irish brand as you explore the distillery and listen to commentary from your guide. The Bow St. Experience brings the stories of Jameson's innovations to life during a tasting tour. Discover the secrets behind the complex distillation process and conclude with a whiskey in the elegant distillery bar.
Start planning your Irish holiday now- meet your Personal Travel Manager by calling
Contact Info