Where To Go!
santiago
Santiago has a spectacular setting with the Andes at one side and the Pacific coast on the other. The city is a vibrant cosmopolitan city with plenty of sights and museums along with great restaurants and a busy nightlife.There are great options for shopping both downtown and in the shopping centres in and around the city.

What is great about Santiago is all the places to see that are located only a short drive outside of the city. These include the UNESCO port town of Valparaiso and Vina del Mar which are easily accessible on a day trip from the city. Beautiful vineyards, with stunning scenery, are located only an hour from the city and offer great tours and wine tasting. There are a number to choose from and if you would like something different you could stay in one of vineyards for a night!

Santiago's proximity to the Andes Mountains offers great opportunities for hiking, trekking and horse riding along with great skiing during the Ski season from June to October.

A taste of some excursions you can pre-book:
Half day guided hiking tour Cerro Manquehue - Iconic mountain of Santiago, Chile
Santiago City Tour
Santiago Evening Bike Tour
Wine Tour of Undurraga from Santiago
Horseback Riding in the Andes from Santiago
Small-Group Valparaiso and Wine Tour from Santiago
Holidays to Chile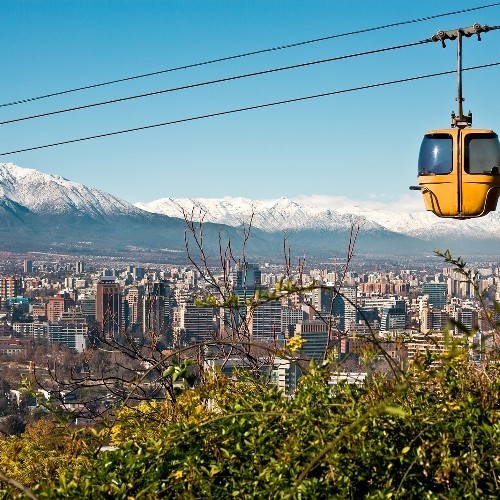 The Atacama Desert
Located in Northern Chile, the Atacama Desert is the world's driest desert with the most spectacular landscape. Vast salt flats, active geysers and intense blue lagoons are some of the regions features. San Pedro de Atacama is a base for excursions including Valle de la Luna, Salar de Atacama as well as the El Tatio geysers.

In stark contrast to the Torres del Paine National in Southern Chile, the Atacama Desert offers a different experience and when both are combined on a holiday to Chile, then you are really discovering this beautiful country!
Below is our 4 night/3 day package:
Day 01 - Arrival transfer to San Pedro de Atacama. Half day visiting Moon Valley.

Right in time for the beautiful sunset, you will drive to the Moon Valley in the late afternoon. It fascinates with silence, moonscape and the snow-capped volcanoes in the background. The last sun rays reaching the ground color the valley in shining orange, red and purple hues. Don't miss this unique experience!

Day 02 - Full day Salar de Atacama, Altiplanic Lagoons and Piedras rojas

Today you will start the tour visiting the huge Atacama Salt Lake (2.300m / 7.546ft above sea level), an inland sea dating back millions of years ago. The enormous Salt Pan made upon of soil and salt minerals, which form a crust over the natural water deposit, is supplied from a series of streams continuously flowing from the Andes Mountains. Enjoy a unique experience viewing this doubtlessly driest desert in the world. Its flatness, clearness and emptiness are very overwhelming. Often flamingos and other birds can be watched searching for food in the salt lakes.

Day 03 San Pedro de Atacama - Full day Geyser El Tatio & Machuca.

Early in the morning (04:00 AM) you will depart for a drive of 126 km (78 mi) northeast to visit the impressive Tatio
Geysers at an altitude of 4.321 m (14.177 ft) above sea level. The steaming geysers are at their best between 06:30 and 08:30am. A breakfast-box will be served at the geysers. On time of the sunrise you will reach the Tatio highlands. The Tatio Geysers are the highest ones in the world. For getting up so early, you will generously be awarded by taking fantastic photos in the morning light.

Day 04 - Transfer back to the airport for your onward flight

Holidays to Chile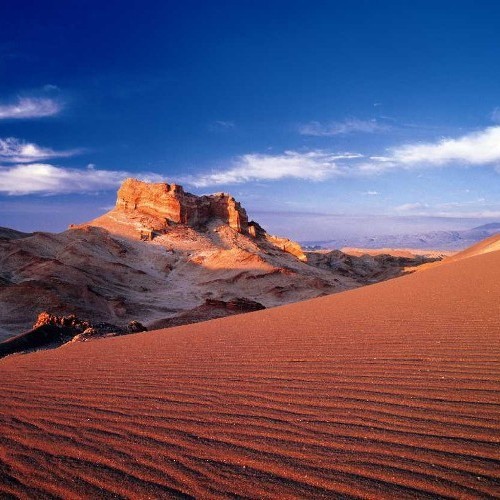 Puerto Natales & Punta Arenas
Puerto Natales is located between the Pacific Ocean and Argentina and is the gateway to visit Torres del Paine National Park. Regular buses depart daily from here to the Park where you can stay or you can stay in Puerto Natales and enjoy daily excursions to the Park. We offer all options including transfers and excursions.

A taste of some excursions you can pre-book:
Full-Day Hiking Tour to the Base of Paine Towers at Torres del Paine National Park
Balmaceda and Serrano Glaciers Sightseeing Cruise from Puerto Natales
Punta Arenas is a city on the the southernmost tip of Chile and has many attractions including museums and there are good shopping options too. It is the only city in Chile where the sun rises over the sea and sets over the land! Punta Arenas is the starting point for a cruise through the straits of Magellan, to Ushuaia in Argentina, which is a once in a lifetime experience.

A taste of some excursions you can pre-book:
Magdalena Island Penguin Tour by Boat
Full-Day Punta Arenas and Magellan Strait Tour
Holidays to Chile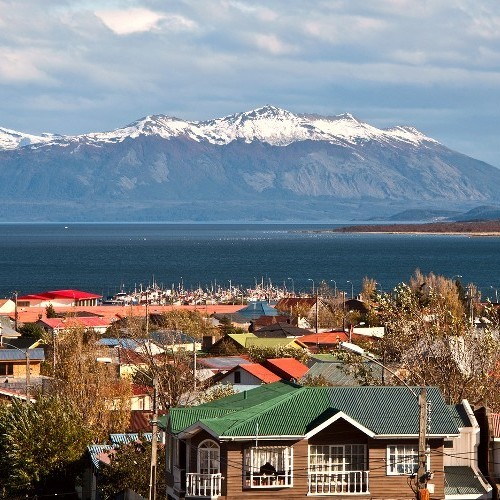 torres del paine national park
Torres del Paine National Park is located in Southern Chile and is one of the most spectacular and important parks in the Country. UNESCO named the park a Biosphere Reserve in 1978 and it is home to a huge variety of plant and animal species.

Cascading waterfalls, rivers, roaring creeks, glaciers, shimmering lakes and jagged spires of snow-capped mountains are just a part of what the Park offers along with a multitude of adventure sports. The Park offers hikes and treks for all levels of fitness.

If you want to get to know the country on a holiday to Chile, then you would include Torres del Paine National Park! We recommned staying in the Park and we offer a range of accommodation types to suit all interests and budgets! We will arrange your transport, accommodation and any excursions or activities you wish to book.

A taste of some excursions you can pre-book:
Full-Day Hiking Tour to the Base of Paine Towers at Torres del Paine National Park
Full-Day Torres del Paine Mountains Advanced Hike
COMBINING TORRES DEL PAINE WITH ARGENTINA: From Torres del Paine you can travel to El Calafate in Argentina and stay there for a few days to explore and discover the town including a visit to the Perito Moreno Glacier! You can travel back to Chile again or alternatively continue your travels to other areas in Argentina.

Holidays to Chile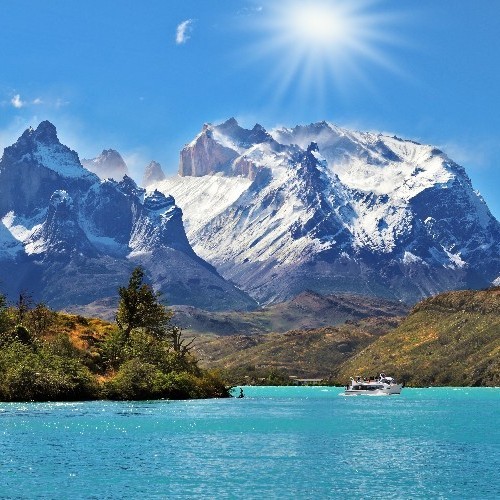 Chile's Lake District
At approximately 600 miles in length, the Chilean lake district is one of the most visually and naturally beautiful regions in Chile.

Pucon is located on Lago Villarrica and is called Chile's Capital of Adventure! You can hike up to the crater of the Villarrica Volcano and even sled back down! White water rafting, hiking, thermal springs, skiing, horseback riding and shopping are just some of the activities you can do here.

Puerto Montt is a bustling city and is the Capital of the Lake District. It boasts great views of the ocean and the towering peaks of the Andes. It is an important fishing port and is well known for it's excellent seafood. Puerto Montt is a great base

Puerto Varas is called the "City of the Roses" because of its beautiful squares full of roses, and is located on Lake Llanquihue with magnificent views of the twin volcanoes, Osorno and Calbuco. Puerto Varas has a relaxed atmosphere with great restaurants and a vibrant nightlife. It is a perfect location for active travellers with a great choice of activities including kayaking and fishing. There is a lot to see and do in this charming city.

The lake crossing to Bariloche in Argentina, starts/or ends here, and it is a fantastic way to spend a day with a visit to Argentina or alternatively, if you are planning to combine the two countries, this lake crossing is an ideal way to do this.

Holidays to Chile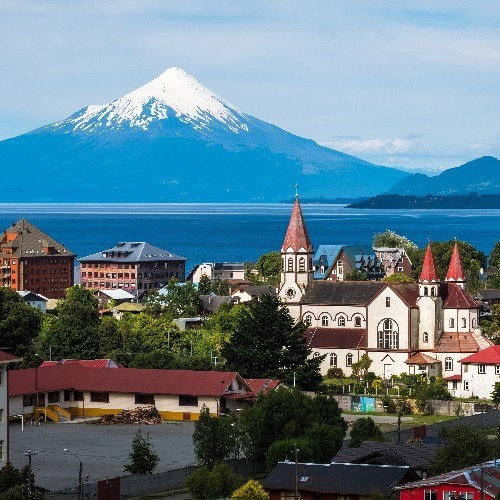 Easter Island
In the Pacific Ocean lies Easter Island or Rapa Nui. The Island is laced with 1.000 gigantic stone figures, a mystic testimonial of the old Polynesian people which settled down in 800 A.D. The so-called Moai statues arise up to 21 m (69 ft). The mystery of the original purpose of the statues has not been solved yet.

A five hour flight from Santiago, Easter Island is a one of a kind and unforgettable addition to your Chilean Holiday! We can arrange flights, transfers, accommodation and excursions for you. We offer a package that includes all of this for you and the details are as follows:

Rapa Nui 4 days / 3 nights

Day 01

Fly to Easter Island and on arrival transfer from the airport to your hotel.

Enjoy a Half day tour to Rano Kau, Orongo, Ahu Vinapu + Ana Kai Tangata.

Drive up the extinct volcano Rano Kau, appreciate on the way a view over the whole island and see its distinct geological features, proceed to an outlook at the crater lake. Afterwards drive to the ceremonial village of Orongo, where the birdman competition took place and you can see the spectacular petroglyphs related to this culture, enjoy the breathtaking view towards the 3 islets Motu Nui, Motu Iti and Motu Kao Kao opposite the coast. Drive down again to Ahu Vinapu (not restored) and for some still proof of the influence of pre-inca arquitects in Easter Island culture. Last stop is Ana Kai Tangata cave with paintings. Back to hotel.

Day 02

Full day tour visiting Anakena beach and the National Park Rapa Nui.

Drive to the southcoast coast and visit representative examples of not restored platforms, Ahus Vaihu in the bay of Hanga Te'e, and Akahanga, where supposedly the famous king Hotu Matua was buried. Proceed to Rano Raraku, quarry of almost 900 stone statues, 397 of them still lying or standing at the slopes of the extinct volcano with crater lake. Then visit Ahu Tongariki (restored with 15 Moais), most recent and biggest restauration on the island. Drive to the eastcoast and visit Ahu Te Pito Kura and the "Navel of the World". Last but not least visit the beach of Anakena with its restored Ahus Nau Nau and Ature Huke. There you will have the opportunity to enjoy the warm Pacific Ocean. Back to hotel.

Day 03

Half day tour visiting Ahu Akivi, Hanga Poukura and Puna Pau.

Drive to restored Ahu Akivi with 7 Moais, built in the middle of the island. The legend tells us that these statues are representing the 7 explorers who were sent to Rapa Nui by the king Hotu Matua. Proceed to the unrestored Ahu Hanga Poukura. Then visit the topknot-quarry Puna Pau with its red scoria stone, where all the Pukaos were made. Back to hotel.

Day 04

Transfer from the hotel to the airport for your return flight to Santiago.

Holidays to Chile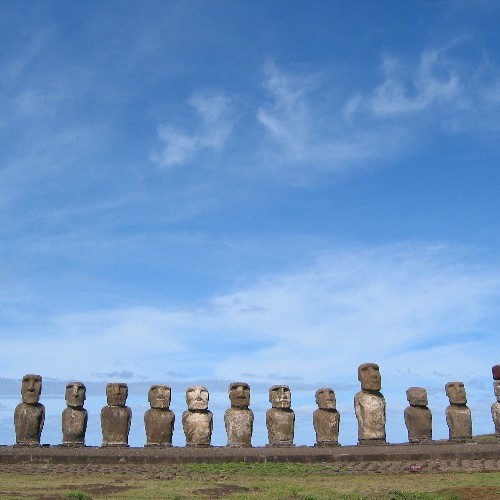 Call our travel hotline for expert advice or to book your trip.
Contact Info