Norwegian Cruise Line
12 -Day Transatlantic Cruise: Scotland & Iceland
From €1246pp
Depart From

Sail from Southampton

Departure Date

23 Sep 2022 - 05 Oct 2022
Alternative dates available on request

Duration

12 days

Destination

Scotland & Iceland

Price

From €1246pp
Enquire Now
Ports of call: London (Southampton), England, Lerwick, Shetland Islands, Scotland, Reykjavik, Iceland, Halifax, Nova Scotia, New York, New York
London (Southampton), England-Protected from the frequent storms of the English Channel by the Isle of Wight, Southampton has survived a turbulent history to serve as a principal port of the United Kingdom today. Pay homage to one of the most famous ships to sail these shores at the Mayflower Memorial. Visit the stoic walls of Bargate and the Tudor House Museum.
Lerwick, Shetland Islands, Scotland-The capital of Scotland's Shetland Islands is a vibrant and energetic city coloured by grand Victorian houses and the region's namesake ponies. It is a cruise ship's primary entry to the Shetlands, a mosaic of over a hundred islands inhabited by about 22,000 people and an abundance of wildlife. It is a land shaped by the sea featuring views of dramatic sculptured cliffs and tranquil sandy bays.
Reykjavik, Iceland-There's a good reason that Iceland is considered a photographer's dream destination. Its terrain is visually stunning, offering views of lava flows, hot springs, unspoiled nature - and colourful, fascinating cities like Reykjavik. The world's most northerly capital brings together quaint villages, exciting museums, a flourishing music scene and restaurants that rival Europe's finest.
Halifax, Nova Scotia-Admire the rugged coastline that surrounds Halifax, the world's second-largest natural harbor. This beautifully preserved city is Nova Scotia's capital and was founded in 1749. Take steps through history and climb to The Citadel to witness the Old Town Clock.
New York, New York-Everyone loves New York and there are a million reasons why. Here are but a few: the Statue of Liberty, the Empire State Building, Grand Central Station, the Ellis Island National Monument, the Brooklyn Bridge, the Metropolitan Museum of Art, the Guggenheim Museum, Times Square, Broadway, Greenwich Village, 5th Avenue and Central Park.
Day 1-London (Southampton), England
Day 2-At Sea
Day 3- Lerwick, Shetland Islands, Scotland
Day 4-At Sea
Day 5-Reykjavik, Iceland
Day 6-Reykjavik, Iceland
Day 7- At Sea
Day 8- At Sea
Day 9- At Sea
Day 10-At Sea
Day 11- Halifax, Nova Scotia
Day 12- At Sea
Day 13-New York, New York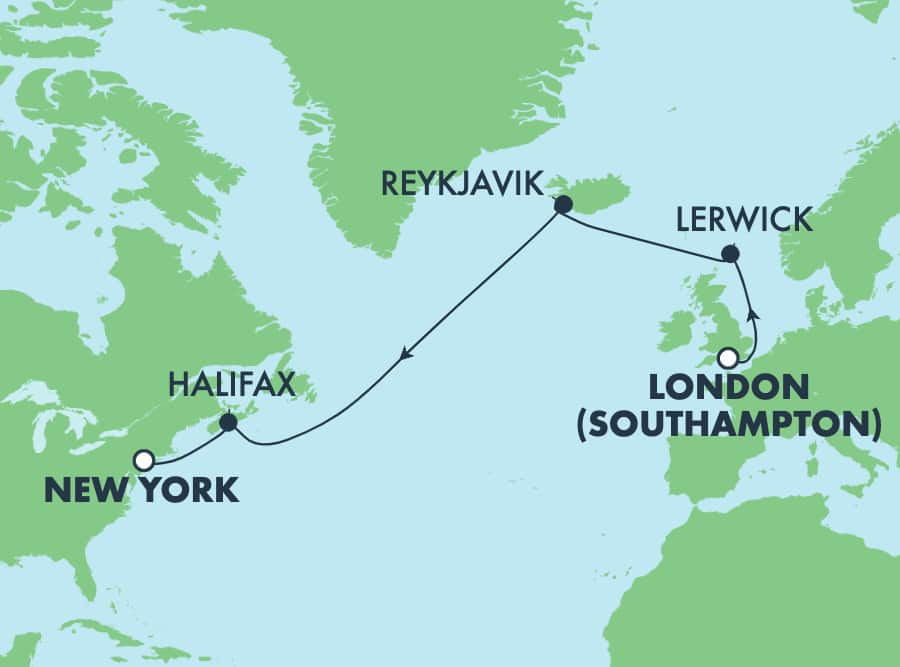 Price is based on 2 adults sharing and includes:
12 nights, full board, onboard Norwegian Prima in an inside cabin
Upgrades from €99pp and choose 2 from the below:
Open Bar
Speciality Dinning
WIFI
Excursions
Please ask us about adding great value:
Flights
Travel insurance
Excursions
Upgrade in cabin
Extra nights in New York
Subject to availability.Terms & conditions apply.
For more information please call us on 021 493 5806 or 0818 300 205, email cruise@shandontravel.ie, request a call back using the red button or submit an enquiry through the form below.